There are many great wine regions of the world from France to California to South Africa to Australia. Likewise, there are many great olive oil producing regions, many in the Mediterranean but also in California and other regions as well. What are the great regions for vinegar though? Vinegar is often mass produced but some regions retain a title as areas that have produced great vinegar, sometimes for centuries. Here we summarize the greats as well as some runner ups that may surprise you.
Europe
Modena, Italy (includes Modena, Reggio-Emilia, & Spilamberto)
The three cities of Modena, Reggio-Emilia, and Spilamberto are the birthplaces and undisputed centers of traditional balsamic vinegar production. Balsamic has been mentioned sporadically since the 11th century in various texts and the Dukes of Modena had acetaia, or balsamic vinegar cellars, in their castles for centuries, giving balsamic vinegar the nickname the "duke's vinegar" as opposed to regular wine vinegar used by commoners. Though much of the balsamic production for protected geographical indication (PGI or IGP in Italian) denominated balsamics occurs outside of the region, traditional protected designation of origin (PDO or DOP in Italian) balsamic vinegar is still rooted here with its ancient traditions.
Jerez de la Frontera, Spain
The Andalusian town of Jerez de la Frontera and surrounding towns such as Sanlúcar de Barrameda are the centers of sherry vinegar (vinagre de jerez) production. Also the centers of sherry wine production, which is used as the base, sherry vinegar has slowly risen from a regional delicacy to a global condiment now being found in supermarkets and pantries around the world. The year 2019 is the 25th anniversary of its official PDO status which helped make it a global phenomenon. The process to make sherry is almost as intricate as balsamic, though it typically does not age as long, and has produced rich, acidic vinegars that have been used from salads to glazes. Sherry vinegar has helped propel Spain past France in the vinegar export rankings in recent years. Word on the street in Jerez is that a thick, sweet competitive to Italy's balsamic is in the works though the time horizon is unsure.
Asia
Zhenjiang, Jiangsu, China
The home of the most famous black vinegar from China, Chinkiang (Zhenjiang) vinegar, Zhenjiang has been well known as a vinegar hot spot since the founding of the Hengshun vinegar company in the 19th century. While not as old as the other vinegar producing regions in China, its distinct taste has inspired imitators throughout the country and literally defined the taste of black vinegar for many outside of China. It is the easiest Chinese vinegar to find abroad and is widely used for cooking and dipping. It is one of China's Four Famous Vinegars (along with Shanxi, Sichuan Baoning, and Fujian red vinegar).
Taiyuan/Qingxu County, Shanxi, China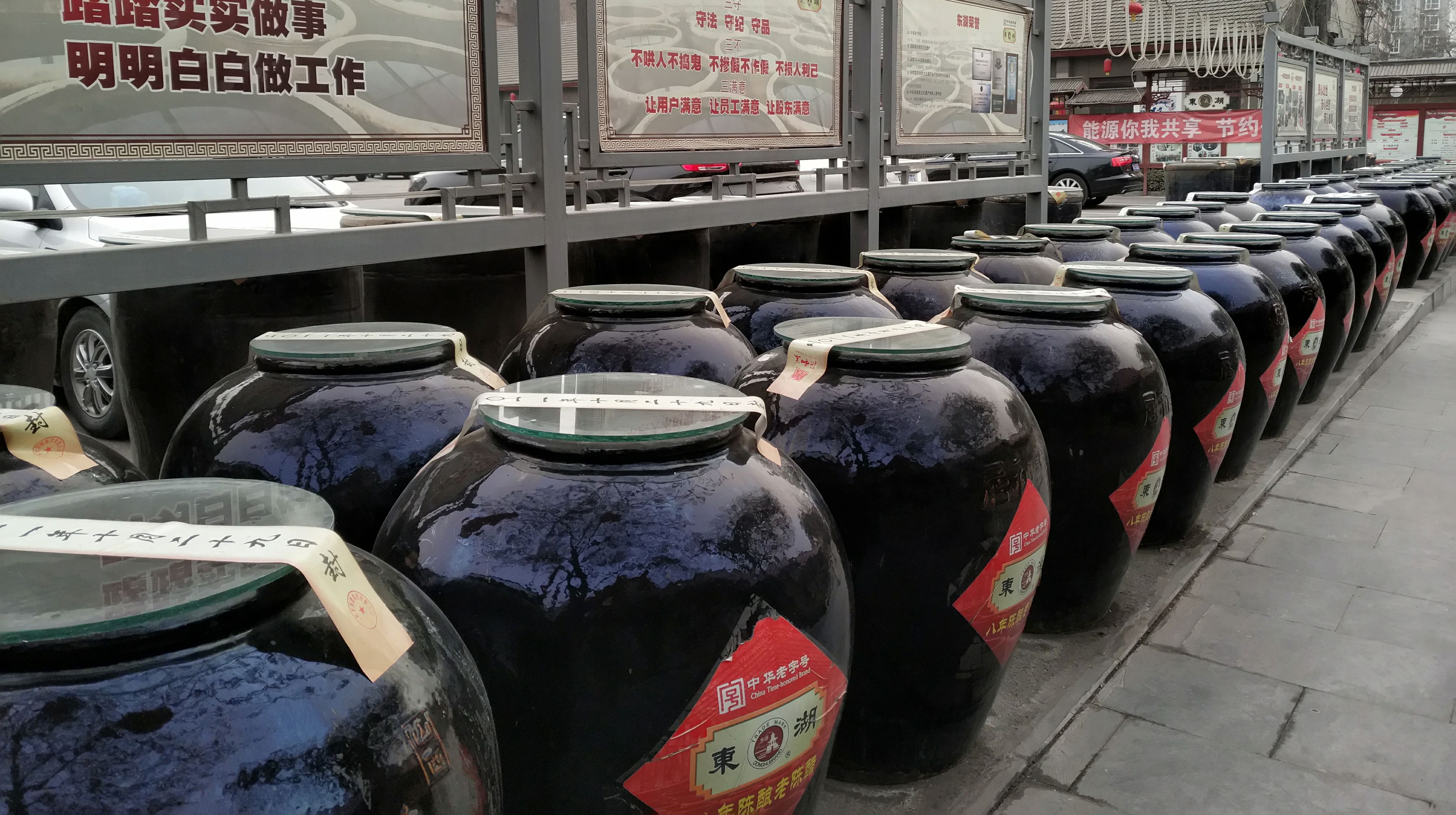 Shanxi vinegar can probably claim to be the oldest continuing vinegar tradition in China, if not the world. Though the modern formulation was only perfected in the last couple hundred years, Shanxi province is near the heartland of the earliest days of Chinese civilization and vinegar making was perfected to supply the many noble and royal households of Ancient China. It is now much more available in the US in recent years, including on Amazon (disclaimer, we sell it on Amazon).
Japan
Japanese rice vinegar is world renowned and while the largest manufacturer, Mizkan, is located in Kyoto, there are many varieties of rice vinegar and traditions around the country. Rice vinegar has been an integral part of Japanese cuisine for hundreds of years but became even more prominent with the invention of modern sushi in the early 19th century. Unlike most Chinese vinegars which use rice as one of many other ingredients including many cereals, most Japanese rice vinegars only use rice. Japan is also famous for its plum (ume) vinegars and even purple sweet potato vinegar!
Philippines
The world is just discovering the wonderful variety and excellence of Filipino vinegars. Few tropical countries have a well-known indigenous vinegar tradition so the Philippines stands out in part due to the uncommon sources for many of their vinegars known as sukang in Tagalog.
The main varieties of sukang are (hats off to this blog post for details):
Sukang Iloco – A dark colored sugarcane juice vinegar, usually about 8% acidity. Iloco is can mean either the provinces of Iloco Norte or Iloco Sur which are famous for producing this type of vinegar
Sukang Maasim – a light colored, nearly clear sugarcane vinegar
Sukang Tuba – Vinegar made typically from the sap (not juice) of the coconut tree
Sukang Pita or Sukang Paombang – A white vinegar made from the sap of the nipa palm and probably the most famous and popular vinegar in the Philippines. Paombang is an alternate name and is named after the town which is famous for nipa palm vinegar.
Other honorable mentions
There are dozens of vinegar traditions around the world, many very local and particular but worth mentioning.
Lanzhong, Sichuan, China
Home of the famous Sichuan Baoning Vinegar which dates back to the Ming Dynasty. It is noticeable since it contains many Chinese medicinal herbs so much so it is sometimes called an herbal vinegar.
Fujian, China
Yongchun county in the Quanzhou metropolitan area is the center of a unique Chinese vinegar tradition that uses only rice and a special red colored mold of the Monascus genus to make a red rice vinegar. Well-known in China it is almost unheard of outside the country and the most difficult to find abroad.
Orléans, France
Arguably once the center and gold standard of vinegar production in the Western world, Orléans developed many of the artisinal fermentation and aging processes using barrels that are still used around the world. Orléans vinaigriers (vinegar makers) first formalized in the late 14th century. Unfortunately, the rise of industrialized vinegar and the consolidation of the French vinegar industry, particularly by Amora-Maille which is now part of Unilever, largely ended this tradition in the the late 20th century. The last vinaigrier in Orléans is Martin Pouret, world renowned for his artisinal vinegars made with the traditional methods.
Condado de Huelva and Montilla-Moriles, Spain
The regions of Condado de Huelva and Montilla-Moriles, both in Andalusia as well, produce the other PDO Spanish vinegars. Mostly sweet wine vinegars such as moscatel vinegars, they produce excellent, though still not well known, wine vinegars. These regions may become more prominent in the future.